Product
Product
Service
Members
Free
Affiliators
Purchase
Support
Tell a Friend
about our site
Subscribe to newsletter
Search Engines Commander
A revolutionary software which lets you take control of search engines cloaking, position optimization and submission! Much more than a cloaking software !!!
A must if you want traffic from search engines.
Search Engines Commander is packed with features to control search engines; from controllable individual page background submission, refresh page date/time stamps, use of templates, smart keywords replacement, hallway generator, browser page personalizer to 6 modes of browser page output.
Whichever trade you are in, you will find that Search Engines Commander has the flexibility to meet your search engines' needs. With its user friendly web-based interface, you can cloak and configure a page fast and also preview the cloaked page before submission.
Search Engines Commander is a install-configure-and-forget software. It runs in the background with time/date refresh, submission to ensure you have no dropped page. The incorporation of templates allows the user to change the content of all optimized pages swiftly.
Features
Search Engines Commander has the following features:
Search Engines Detection and Cloak
ability to cloak; prevent your highly ranked page from code jack, 100% effective using IP delivery
world's major search engines like Altavista (LookSmart, MSN, AOL), Excite (Magellan, Webcrawler), Google, Hotbot (Yahoo-Inktomi, Snap), Infoseek, Lycos and NorthernLight are supported.
ablity to detect core search engines and differentiate between them; more search engines will be added via the automatically update features without user intervention.
automatic search engine signature update by clicking or periodically without user intervention; hence the signatures will never go outdated as we human monitor, verify and update Search Engines IP constantly, no need to manually download any search engine signature
free search engines signature update, no monthly or yearly subscription
supports user definable search engine using user-friendly interface; user definable search engines can be used in the same way as the search engines we provide; flexible enough to be configured to detect some foreign or community search engines or detect a certain group of internet users
Templates
ability to generate more than one optimizied page based on one user supplied template by mean of changing keyword(s); generate template based optmizied pages with ease
supports unlimited selectable user supplied templates for search engines
supports one template to all search engines, many templates to one search engine or the combinations
generate optimized pages on the fly based templates
availability of one or more templates for each search engine
automatic substitution of unlimited keywords or key phrases
keywords or keyphrases can be upper-case, lower-case or initial upper-case
intelligent removal of duplicated keywords or keyphrases in template as not to spoil the overall keywords density of templates
use of third level or below domain as keywords or keyprashes
templates can be organised by category in a directory
Optimized page
Non-Template mode, selectable optimized page; controllable to the extent of one optimized page for one browser visible page per search engine
Page Link Generator
each optimized or template page can be inserted with links (URLs, relative hyperlinks and absolute hyperlinks) to . Links are generated in user controllable positions. This feature helps search engines transverse to all links within your sites and thus helps to improve page relevancy.
Submission
supports background form submission to search engine; Excite (Magellan, Webcrawler), Google, Hotbot (Yahoo-Inktomi, Snap), Infoseek, Lycos and NorthernLight without user intervention, they do the submission when you are sleeping, you do not need to on your PC.
supports background email submission to search engines; good for submitting a big list of URLs at one time, without triggering the spam level of search engines
generates hallway page for search engines to transverse all links; crawled sites/page are known to be ranked better
submits each page to individual search engines or generates a link of these pages on the hallway page or both
submission count limiter to prevent over registration
3 different mode of submission, random, older page first and sequencial, to ensure every page is submitted or submit according to your importance
hard limit set not to submit an URL within certain days interval
supports configurable submission interval from daily, every day, every 3 days, every 2 months..... or never submit to search engines. Some search engines might drop a old page, with configurable automatic submission interval, this problem can be overcome
selectable time interval for time and date refreshing (or never) of html pages; caters to search engines which prefers newer pages and those search engines like to drop old pages
close-loop check of submission status display by search engines; other submission software simply check if the submssion URL is present, we do a step futher to ensure your URLs is truely submitted sucessfully.
daily submission email report; shows submission mode, which are the URLs submitted to the search engines, submission status and page refresh status. Also report hallway page status
or if you want immediate submission, you can do it with a click
Subdomains / Domains
supports unlimited subdomains; sites with keywords in subdomains are known to be ranked better in some search engines
supports unlimited virtual subdomains with user-friendly interface, even if your server does not provide subdomains
supports unlimited main domains with user-friendly interface
Security
SEC is designed to be 100% against html theft of code jack (IP Delivery); no anti-cloaking utility can used to steal the code
entry to Control Center of SEC is protected by password
User interface, configurability and usability
users can gain control over a page using web based graphics user interface; no necessity to amend the program on the script level
most of the control can be done by using the mouse
error checking and reminder for any erronous records
preview of the hidden pages and browser pages before submision to search engines
one installation support many domains
Browser Visible Pages
6 browser visible page modes, we make SEC to tailor to the type of bussiness you are in
supports one browser visible page for one cloaked page; standard way of use
supports one browser visible page for many cloaked pages; the lazy way of using SEC
supports randomly selected browser visible page for all cloaked pages; give surfers a fresh impression if the cloaked site is visited more than once
support route-to (not redirection) mode, send visitors to another URL; great way for traffic generating service providers
supports visitor search engines query term with insertion in any part (title, meta tags, body.....) of browser visible page to give a personlized page
supports smart subdomain automatic insertion in any part (title, meta tags, body.....) of browser visible page, for example, your domain is used-car.domain.com in a search engines, the browser visible page can be made to show "Best bargain of USED CAR", "Looking for Used Car?", etc
able to remove assoicated sentence if a subdomain or search term is not found to prevent incomplete sentence appears in your browser visible pages
Search Engines Friendliness
limit the number of pages submitted to search engines per day
mimic web browser when submitting the URLs
using Route to (Route to is one of the operation mode of SEC) to transparently redirect traffic to another site, do not use domain redirection, meta tag refresh or Java script to redirect traffic. Search engines hate domain redirection, meta tag refresh and Java script for redirection.
designed to work transparent to search engines

Access Log
provides search engines and/or browsers access email notification
provides search engines and/or browsers access web based log file
System Requirements
Virtual or dedicated web hosts, web servers running in Unix/Linux or WinNT4/Win2000, SSI
PERL 5 or ActivePerl 5.005 (or above)
Access to crontab or third party task scheduler is needed.
We recommend Agdrafix (tons of features, excellent support) or He Net (very affordable, allows adult web hosting) for your web hosting needs. Servers used by Hiway Technologies are found be incompatible.
Interface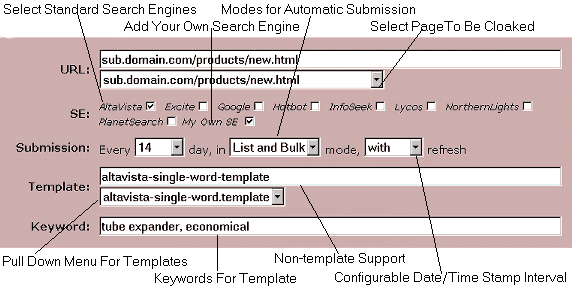 Who are our customers:
Online shopping mall, online retailers, use SEC to set pages to focus on one product/item in one page, a general non-SEC enabled page lacks of keyword theme.
Internet marketing companies, search engine placement companies, SEC provides a turnkey solution to these companies, in fact majority of our customers come from this sector.
MLM websites, all pages from MLM website are of the same content, SEC can provide pages with different contents and keywords to obtain high ranking in search engines. Additional cost may apply to modify MLM Replicator/SEC so that both program can run concurrently.
Adult websites, use SEC to improve ranking competitiveness, cloak higly ranked pages, set many pages with different keywords and content, leave SEC to take care of background submission in a spam-free manner
Services related company, comission based company, use SEC to route traffic to a main site from many SEC enables sites
Online Casinos, use SEC to improve ranking competitivess and cloak highly ranked pages

What Our customers say:
On the whole, the product is very comprehensive and fairly easy to understand. Modifications / additions [of cloaked pages] do not present much of a challenge once acquainted with the fundamentals. Ben Colglazier
Fantastic!!

It is great to work with someone who moves quickly and understands the different aspects of both the Internet and Business - very rare for software developers! Dr. Jeff Greenfield
SEC makes management of my subdomains and entry pages an easy task... Mischa Wetzel
The route-to mode of SEC is a valuable, it makes our traffic generation to our customers easy and manageable than before. Beth A. Laderer
It is wonderful the way SF protects my search engine rankings!, before [having] SF I had to re-do my pages almost dialy because my competitors were analyzing and copying my code, now thanks to SF I can work in peace in other projects without having to make new SE optimized pages every day!! Reynaldo Alvarez
You have been UNBELIEVABLE in helping us to get it working with our servers. Have never had as good support with any product! Marten Davis
Update
Updates of new search engines and signatures are provided free. Updates can be performed automatically or manually.

Operation and Security
This script does not interrupt the operation of any search engine indexing nor will it cause them to fail or stop indexing. It is totally transparent to search engines indexing robots, crawlers and browsers.
Search Engines Commander is capable of hiding your optimized webpage completely from human browser and thus prevent your optimized webpage HTML code being plagiarized. In some practices, webpage thief copies top ranked webpage and use it on their website to outperform their competitor. In every aspect, we have take care not to cause alarm to search engine and the script emulate web browser whenever necessary and possible to our best knowledge so that search engines cannot distinguish the differences.

Installation
You can request free installation from us for one site. Once the installation is done, you can change the ftp password. If you want to do the installation yourself, you should have some knowledge of ftp.

License and Guarantee Information
Click here to read.

Pricing for personal or company use
Multiple Domains Edition --- $600 for use on all domains owned by your company and promoting domains that are owned by you or your company only.
Pricing for search engines promotion company
Unlimited Client License Edition --- $1200 all domains limited to your clients' domains or route to (clients) domains.
SEC is not as expensive as what you think, there are other plain cloaking scripts that cost around this price, some require yearly subscription to download search engines signature and worst still they do not do anything except cloaking. SEC provides a total solutions for search engine management from cloaking, optimizing to submission with a wide range of the functions, flexibility and ease to use. With our regular program revisions to combat search engines changes, your investment in SEC is protected.

Click here to purchase online securely. If you intend to purhcase by wire transfer, write to us. This package includes the Search Engines Commander program, one free installation, comprehensive how-to-use documentation and installation documentation, unlimited email support and unlimited updates.